Mamaroneck's Harbor Island Park is a small peninsula of land that juts out into Mamaroneck Harbor in Long Island Sound. It is a pleasant area from which to begin trips into the southern sound.
PUT-IN:
Harbor Island Park in Mamaroneck is a town park that is frequently used in the warmer months. In a gesture of welcome rare to the area, Mamaroneck does not require a resident's permit to use their park, however, you will have to pay parking and possibly additional fees if you go during the summer season. During the off-season, I have frequently gone here for no charge. I use nearby Larchmont during the summer season.
Click here for a map.
ROUTES: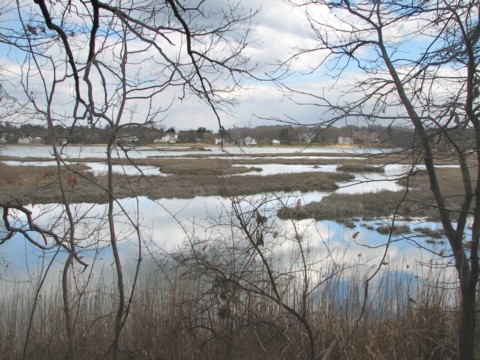 Larchmont and New Rochelle lie along the shore further to the west, toward New York, To the east, you reach the Rye and Greenwich shore points.
Just before you reach the Sound, Milton Harbor juts in for a mile or so. You can paddle past the marshes of Marshland Conservancy, one of few remaining salt marshes in this part of the Sound and an important area for many species of birds. Because of the delicate nature of the ecosystem there, you should not try to paddle into the marsh itself or land on the shores of the Conservancy. It is prohibited.
If you look up past the marsh and into the hills beyond, you can catch a glimpse of John Jay's house. Jay was the first Chief Justice of the United States. His gravesite is in the woods to the right of his house.
The mouth of Milton Harbor is taken up with Hen Island. This island is privately owned and there are a number of families who have homes here.
This is the western part of the Sound. Current is not a significant factor, but do be careful of wind.
Click for
Use of the information in this guide is at your own risk. Please read our disclaimer.
Copyright 2005 - by Jacob Tanenbaum. All rights are reserved.