Access to the water in this area can be difficult. In recent years, states, cities and towns have been struggling to provide access, however it is still far short of what it should be. Knowing your rights can help you fi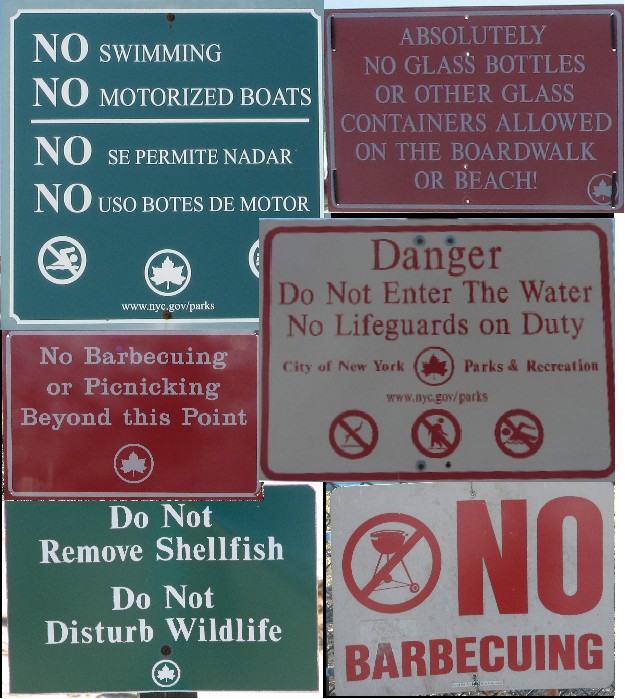 nd access to the water.
Private Property: Land along the Hudson River and Long Island Sound has long been prized for its beauty. Much of the land along the water is now in the hands of private owners and they do not want kayakers landing on the beaches they have paid for so dearly. In Connecticut, for example, one study estimates that 80% of the shoreline is in private hands. It is important to remember that in almost all cases, the owner's property ends at the mean high water mark. Areas below that line are considered public land. Many property owners build sea walls, which are always above the high water mark. You may not land there, however in most cases land owners cannot legally ask you to leave if you land and stay below the mean high water mark on a private beach. Check the links below for specific discussion of the laws for each state in our area:
Parks and Public Marinas: Many parks and shore facilities require fees to launch or to park. Some local (county or town but not state) parks go a step further and require a resident's permit in order to use the facilities in any way. These permits may be required even to land your boat on a ramp in some public parks. This further restricts access to the water for paddlers, especially those living in a land-locked town or city since they may lack the ability to use any facilities as a resident.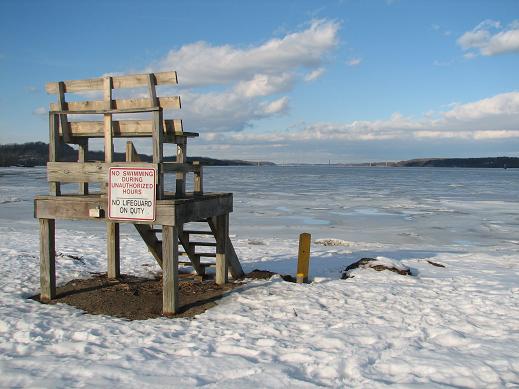 When truly frustrated, always remember there is an off-season when the lifeguard's chair is covered with snow and no one will bother you if you land or even cross-country ski on the beach.
The town of Greenwich, Connecticut is notorious for this practice. They even restrict access to some of the islands off of their shoreline to residents only. Again, know your rights. You may land and stay below the mean high water mark (NOTE: This does not apply to swimming areas where boats are not allowed for safety reasons). As long as you do not cross the high water mark, you are on public land.
Restricted Areas: Many areas in our region are restricted. This includes national monuments such as the statue of Liberty and Ellis Island. Areas around bridge-supports and tunnel vents, as well as airport runways near the water may also be marked as restricted. Still other sites, such as David's Island in Long Island Sound, and Bannerman Island in the Hudson River, are considered unsafe because of the nature of the use of the land in the past. Wherever possible those restricted areas are noted in this guide, however, restrictions do change frequently. You should watch for and adhere to signs and marker buoys as you paddle the area waters.
Undesignated Areas: In most cases, if an area is not designated as private or prohibited, you may launch your boat. Many public roads, for example, dead end at the waterfront. Often communities will try to keep kayakers from using an area by restricting parking or by walling off access to the water. If you can park, however, and there are no signs telling you that you may not launch your boat, you are free to do so.
How to Use This Guide: This guide attempts to inform readers of the locations of free parks and put-ins that do not require a permit. Any deviations from this model in the guide are clearly marked. However, in most cases, you may kayak for free on the sites listed here.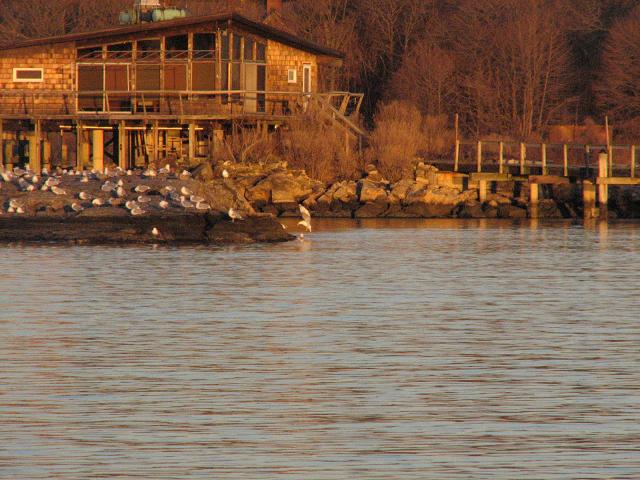 You may also land for free. This is important. There is nothing quite like crossing a large stretch of open water only to find that the beach you counted on for a rest and a picnic lunch is restricted or is really a long seawall. In fact, there are places in our area where you may have to paddle several miles along shore just to find a place to land. When you plan longer trips, you may use the information in the guide to know where you may stop and rest along your way.
Final Thought: Please remember that IF YOU ARE IN DANGER, LAND YOUR BOAT. Respect for someone's private property or the rules of a local park are noble, but should not keep you on the open water in a 9 foot plastic boat during a lightning storm. Most legal systems even have provisions to protect you in the event that your life is in danger and you are forced to land your boat.
Use of the information in this guide is at your own risk. Please read our disclaimer.
Copyright 2005 - by Jacob Tanenbaum. All rights are reserved.