Tarrytown is a rivertown with a population of about 11,000 people. The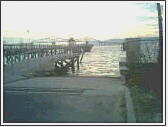 difficulties faced by waterfront and those who use it here include many of the current issues that surround access to the Hudson River. Old factories, such as a GM plant now long since closed down, are giving way to new construction that includes luxury housing right on the water along with parks and walkways that will allow the rest of us to enjoy the river as well. Industry still hangs on however. Signs on the property next to the waterfront park here warn visitors not to enter or take photographs of the area. Signs posting storm drain outflow also adorn property right next to parkland.
PUT-IN: The put-in here is hard to find both from the water and from the land, so go slowly. Just north of the Tarrytown railroad station (at the west end of Main Street), there is a bridge that takes you up and over the tracks. Go to the top of the bridge. Turn left to cross the tracks, then right at the other side of the bridge. Take this street a short distance and look to your left as you approach the water. There is a small park and boat ramp. No permit is required and the facilities are well kept and modern.
ROUTES: Trips here can take you south under the Tappan Zee Bridge to Irvington or across to Piermont and its marsh. North takes you to the Lighthouse at Sleepy Hollow, Croton or across to Haverstraw. West takes you to Nyack and Nyack Beach . If you choose to cross the Hudson, the shipping channel is on the east side. Look for the high section of the Tappan Zee Bridge as well as the usual marker buoys, but pleasure boats frequent the entire area so take care to watch at all times.
Click for

Use of the information in this guide is at your own risk. Please read our disclaimer.

Copyright 2005 - by Jacob Tanenbaum. All rights are reserved.