The Palisades Interstate Park runs from the New York State border to the George Washington Bridge. It is comprised of cliffs stretching up 600 feet in some locations. This entire section of the Hudson River, from the George Washington Bridge to the New Jersey line is all parkland. It is an incredible experience to paddle through quiet, sometimes remote, sections of this long park while looking at the Manhattan skyline just down the river.
PUT-IN: There are two places to put-in along the shore here.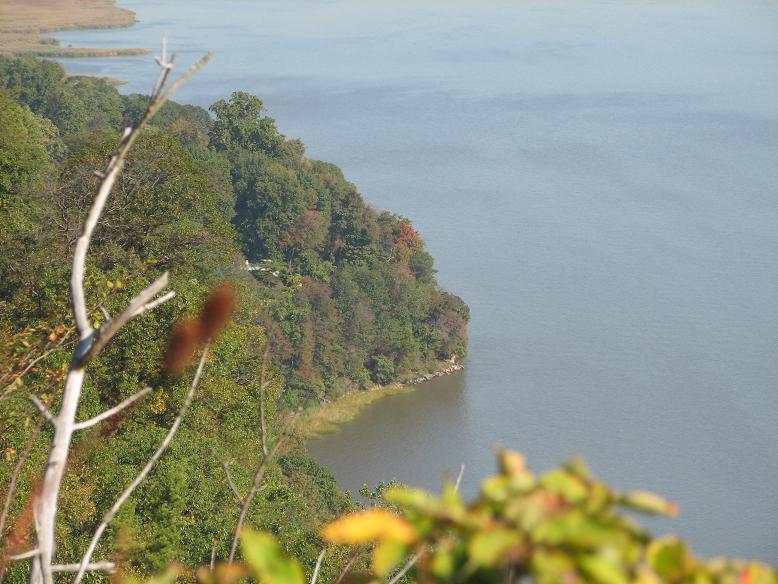 Alpine Boat basin has parking, and if you are willing to carry your boat a fair distance, there is a beach on the north side of the public access area.
Englewood Boat Basin has a beach on the north side of the dock area that has plenty of parking and there is no need to carry your boat any distance. Of the two put-ins, this one is far nicer.
ROUTES: Trips here can take you north to Piermont and Yonkers. South brings you to the George Washington Bridge, the Little Red Lighthouse and further south into New York City itself. If you choose to cross the Hudson, the shipping channel is in the middle.
The Spuyten Duyvil creek enters the river here on the East side almost directly across from the Englewood. There is a boat ramp just past the entrance to the creek which is used by the Columbia University Rowing Team. I do not recommend going further down the creek without a knowledgeable group and good equipment. One translation of the name of this creek is "Devil's Whirlpool," another is "to spite the Devil." Either name will give some indication of the currents that can be found in this little body of water. Portions of the creek are man-made, and if you are caught in the currents, there is no place to land and no natural eddies to help you maneuver up-stream.
Click for

| | |
| --- | --- |
| | |
| | |
| | Charts |

The sloop Clearwater off of Alpine Boat Basin
Want to try a great trip? Check this one out.
Map your trip with EveryTrail
Use of the information in this guide is at your own risk. Please read our disclaimer.
Copyright 2005 - by Jacob Tanenbaum. All rights are reserved.